By offering you customized turnkey solutions according to your specific technical and esthetical requirements, Aurasol is nowadays covering the whole value channel through:
Feasibility study
Engineering
Planning
Panels production and electrical components sourcing
Site construction
Commissioning
Maintenance and know-how transfer
After sale support
 AURASOL offers you a panoply of solutions according your need:
I. Photovoltaic parks
Via its consortium made by known international experts, Aurasol is able to offer you turnkey solutions adapted to you need:
II. Isolated urban conglomerations
III. Platforms utilities
IV. Privates companies with high electric demand
V. Public authorities
VI. Roof building integrated
Isolated urban conglomerations
Private companies
The continuous growth of the electricity cost will certainly cause fatal impact on the good running of your activities such as higher operating expenses, less productivity, delivery delays and data Losses. If it is a plant, a warehouse, a hotel, a shopping mall, hospital, school or any other building types, Aurasol gives the opportunity to:
1/ Customize your roof according to your esthetical preferences and your architectural requirements in terms of color, form and/or content
2/Optimize the installation surface thanks to its high modules output
3/ Reduce your electricity consumption bill
4/ Have a short ROI delay
5/ Increase the economic value of your building
6/ Create a green brand to your company
Facades
Aurasol façade modules can fit to different parts of the building such as façade, skylights and windows. They match beauty and utility aligning up with the modern architecture orientations and trends.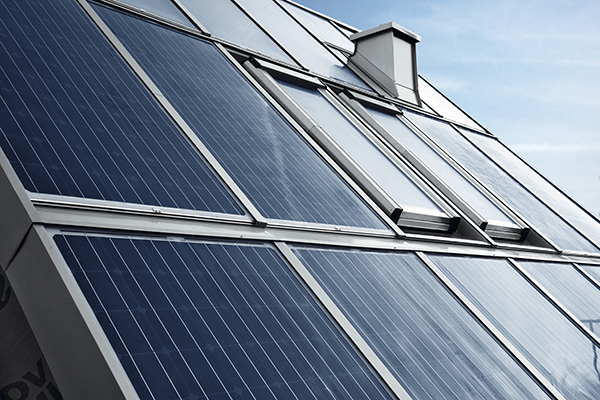 Canopy
Aurasol offers you a large variety of its special canopy modules with different colors according to you taste. We are serving with a superior design, superior materials, and superior performance.
Off grid lighting
Street/roadway lighting
Nowadays, the photovoltaic solution applied in the roadways is gaining more and more attention from public and private actors. The photovoltaic roadways lighting is advancing an irreproachable solution embodied in a low cost structure comparing to grid lighting. In addition, the technology maturity in terms of energy storage is currently offering 20 to 25 years battery lifetime. According to the environmental conditions, Aurasol offers you a wide range of solar lighting configurations and styles to fulfill your special needs.
Advertising billboard lighting
Billboard solar lights are a brilliant way to provide lighting and continuous power with no utility connection. They provide cost savings by waiving the need of wires and by being self-electricity generator.
Kiosk and parking lighting
With our tinted transparent VIDAURA modules range along with a special designed structure, we provide you a double use of the photovoltaic parking system: generating electricity that can be connected to the grid and enabling shadowing for cars.
Agriculture
Water irrigation system
Whether for personnel or professional use, Aurasol offers you specific off-grid water supply systems to let you take advantage of the first source of life; it is water that can make your life greener.
Greenhouses
With our transparent VIDAURA modules, designed with special concern of the distance between the cells, you can optimize the surface and allow increased light capturing. Thus, enabling a maximum electricity production as well as a greenhouse crops quality.